Office kitchens and tea points have changed over the years. It used to be employers only supplied a kettle in the workplace kitchen. Nowadays the modern office kitchen is much more sophisticated.
The kettle has been replaced with instant hot water boilers which are efficient to run. These offer a constant supply of boiling water and can also provide chilled water too. The instantaneous hot water taps help prevent a log jam in the office kitchen. Staff aren't stood around, waiting for the kettle to boil as everyone arrives for work eager for a caffeine fix.
Microwaves and toasters appear to be the norm now in most office tea points. Dishwashers are also commonplace, often a commercial-grade which offer a complete wash cycle in under 8mins. Worktops can be laminate, acrylic, quartz or granite with the sinks inset or underslung style. Worktop splashbacks that were tiled previously are now often replaced with hygienic wall cladding that is available in various colours.
The kitchen flooring Lino of old has been upgraded to non-slip products that are available in various bold colours and styles, including wood effect. To top it off, suspended ceilings, with modern LED lighting and built-in extraction systems, to get rid of cooked food smells.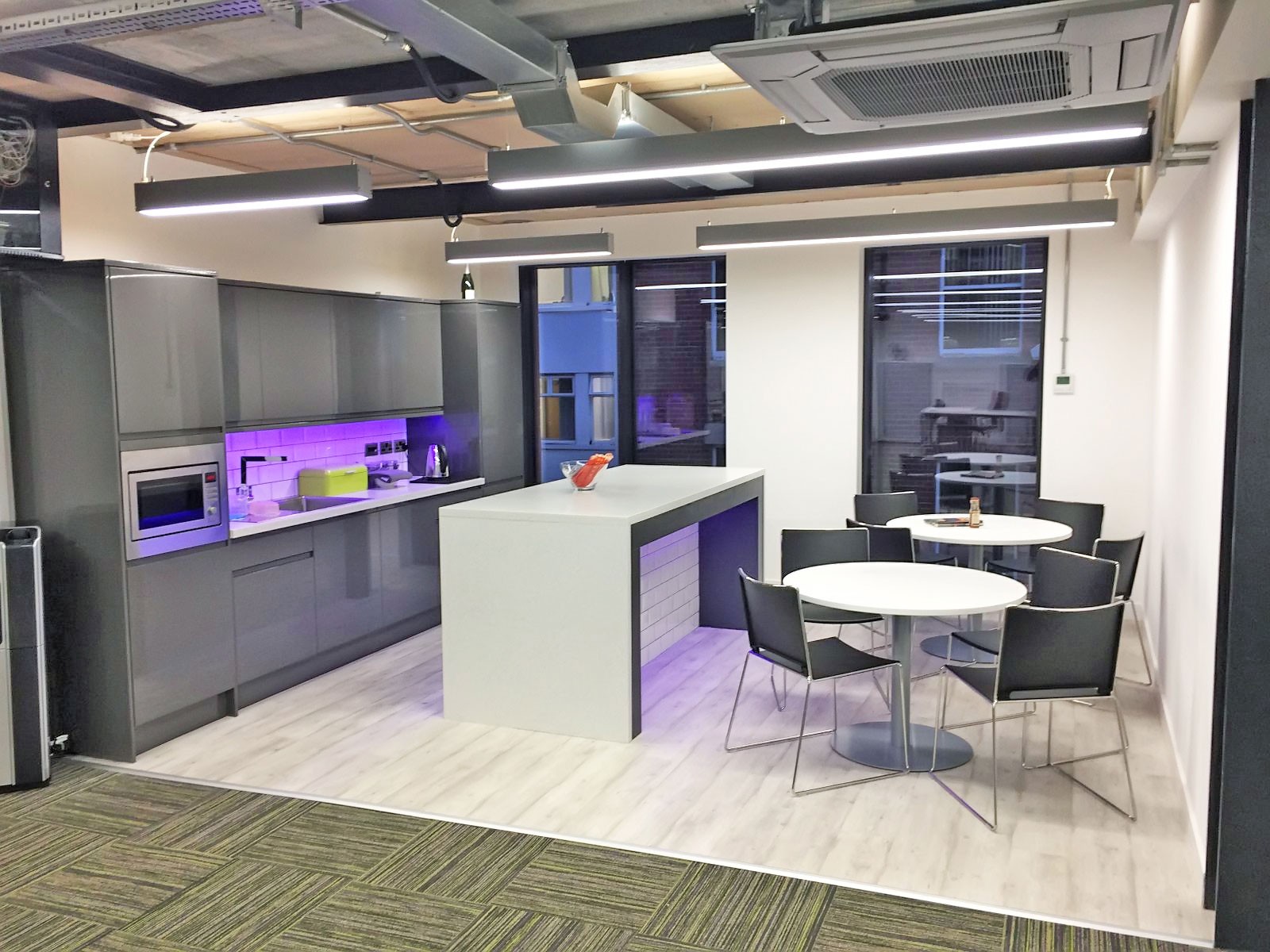 Recent survey results show that businesses who provide a fully stocked office kitchen create more productive employees. One benefit to an employer providing good facilities is that it encourages staff to stay in the office rather than venture out for lunch; which could save time and money.
It's also been found that companies offering such facilities to their employees are not just providing an area for a tea break, but for impromptu meetings. These spaces help to keep energy levels up and have a beneficial impact on the workforce's productivity and mood.
Studies have suggested that offering some of the items below may help to make employee's happier at work and contribute to productivity:
A wide selection of beverages
such as tea, coffee, hot chocolate in the kitchen area
Healthy snack alternatives
such as granola bars and fruit to help promote a healthy lifestyle
Office kitchen cleaning facilities
so employees can help keep the kitchen clean and germ-free
Recycling bins
The environment is important; provide some so employees can recycle at work as well as at home