Client:Cata Appliances
Location:Normanton (Wakefield)
Industry:Kitchen appliances
Building:2 storey office
Date:June 2013
Conceiving a contemporary design scheme and carrying out a complete refit of the office interior. Space/layout planning along with sourcing stylish, modern office furniture.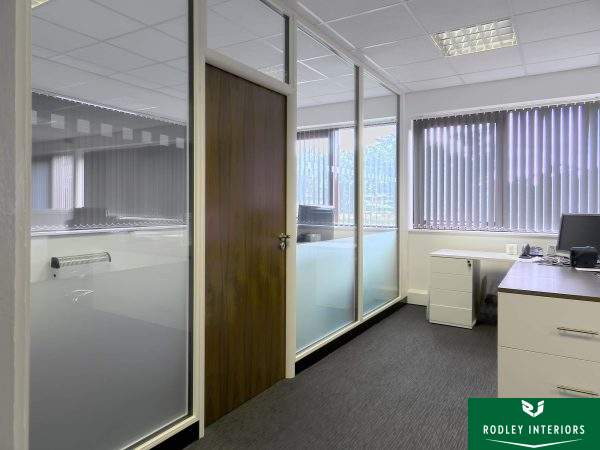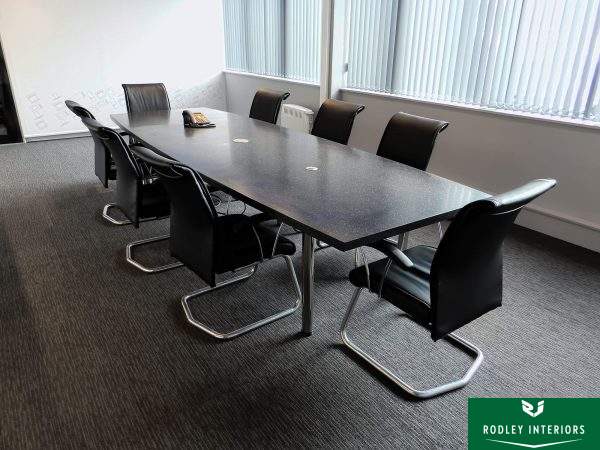 The Design Brief
Cata approached Rodley Interiors to design and fully refurbish their Wakefield head office. The design brief was pretty open; they wanted a contemporary look & feel to match their modern approach to business.
We showed the client some of our previous completed office refurbishment work from around West Yorkshire. This gave them the confidence to go with Rodley Interiors and provided some great inspiration for the new layout they wanted.
We had a blank canvas to work with as we completely stripped out the existing office including all floor coverings, external window blinds, old tired kitchen units & work tops and the various styles of office furniture.
Office Interior Design
The shape of the office and the existing dividing walls meant there wasn't much opportunity to use partitioning. This meant we'd have to rely on savvy office furniture choices to create the impact and feel we wanted. Our many years of experience and great relationships with furniture companies came into its own here.
Following consultation with the client we decided on a monochrome colour scheme. We wanted to have a lot of white to help create a light workplace and a clean, more minimalist feel. We chose furniture from the Pure Collection by Imperial Office Furniture due to the crisp, white appearance and excellent build quality. We opted for a walnut finish to enhance the high-class, luxury look with the natural wood appearance adding a delightful contrast. This was offset with a dark grey charcoal carpet fitted throughout to heighten the clean lines of the furniture.
Contemporary Office Furniture
The walnut top desks have white extension pedestals with side pulls instead of handles to keep a minimalist aesthetic. The lockable two drawer desk-end filers are also finished with matching walnut tops to extend the desk space and add extra impact. The larger drawers on these filers have 2 side-by-side rows of filing per drawer.
Rolling door tambour storage units were required. We selected one full height and one desk height unit with white roll doors and matching walnut façade. The benefits of these storage units are:
They colour coordinate with the rest of the new furniture
The doors are lockable which offers privacy for documents and personal items
Contents are easily accessible and quickly hidden thanks to the rollaround doors
Dividing screens between desks were added for a degree of privacy between staff. These crisp, frosted white dividers tie in well with the rest of the modern office furniture and are a far cry from the dull, bog-standard, canvas covered affairs.
Executive style office seating
Excellent seating is a must for the modern office. We sourced these stylish, contemporary black leather chairs that have black mesh backs. This backing aids breath-ability making them more comfortable for the user. Not only do these chairs have that designer look but they're also ergonomically sound and very cost effective!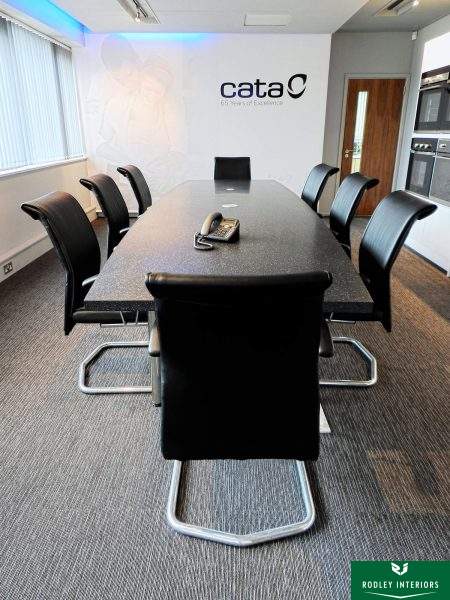 Office partitioning
The office partitioning is a good sound-prevention system, double glazed with a simple frosting manifestation. The white aluminium framework coordinates with the furniture as does the luxurious walnut finish doors. Black laminate skirting to the base of the partitioning ties in well with the charcoal colour carpet and other black accents used around the office.
High-end boardroom design
We thought the boardroom needed something a bit special. An elegantly curved boardroom table with a sparkling granite effect finish was ideal. As well as the luxury aesthetic of granite this also ties in with high-end kitchen surfaces – most appropriate for this company's business. Vinyl graphics on the walls add interest with a large full-height B&W photo adding an extra touch of class. We added modern, stylish black leather meeting room chairs to complete this contemporary boardroom.
A modern office kitchen
For the staff kitchen area and break-out space we went with a shiny high-class, white gloss finish for the kitchen units with satin stainless steel handles. We fitted a large, spacious Walnut block breakfast bar for a real wallop of natural wood as you enter the office. Shiny black plastic stools with polished stainless steel bases make this an inviting area for staff to relax in.
We also designed the external window blinds (not pictured). These are 89mm slate finish slats, complete with white powder-coated slim-bodied head-rails.
A considered and restricted colour palette, shrewd furniture choices and large area surfaces for high-impact help in creating this elegant, high class office interior without the design costing the earth!

Interactive panorama
More Photos