Rodley Interiors can now supply and install a new hi-tech ceiling-hung protection screen.
Made using high-quality ETFE, a clear polymer film, means these are extremely thin at around 300 microns, so won't hinder sound.
Lightweight
These screens are less than 1% the weight of an equivalent glass panel
Thin & Discrete
The ultra-thin film is fully see-through, unless treated with a frosted privacy manifestation
Easy-clean
The film is chemically inert meaning it can easily be wiped clean with anti-bacterial products
Branding and Graphics
Partitioning manifestations can be applied for branding, visual interest or privacy
Odourless
No softening agents or other evaporating chemicals like other plastics and PVC foil
Flame retardant
And self-extinguishing, complying to class B-s1, d0 of EN13501 safety standards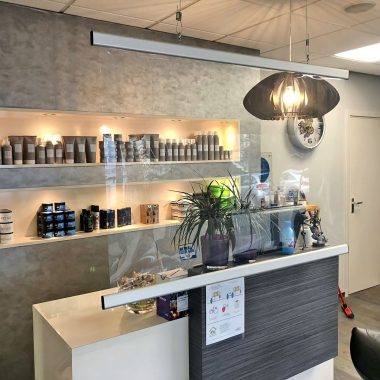 These make ideal guards against sneezing and coughing, providing optimum protection against transmitting dust, dirt and viruses – including Coronavirus.
They're great for offices and ideally suited for gyms and hairdressers. These premium protection screens are even suited for contact with food, so can be applied in food preparation areas. The ETFE foil has passed the strict § 64 LFGB L 00.90-6 test and meets with European Food Contact Regulations 1935/2004/EC and DIN EN 1186-1.