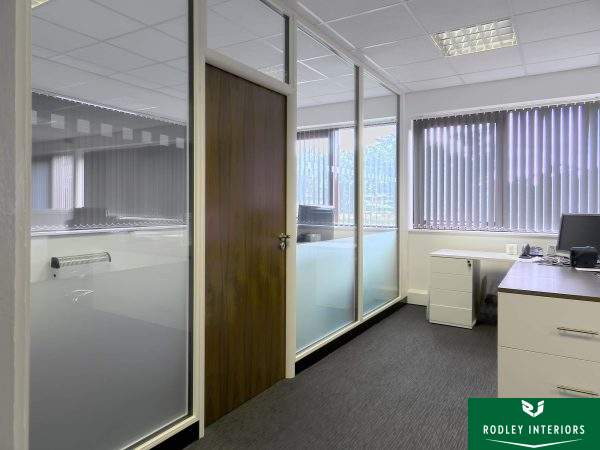 Glass Office Partitions
Glazed partitioning helps maintain a wonderful, open feel to your office space. It can form dividing walls between offices, that gives a degree of privacy yet still maintains that visibility factor.
It's a quick & simple way to segment your office space and requires no changes to existing suspended ceilings.
Glazed office walls help reduce the noise between rooms and can provide private areas, meeting and board rooms.
You may of heard it called 'glass room dividers' or 'glazed office screens'. The full height frameless glass partitioning is often referred to as a 'glass office wall'.
All the glazing we supply can have window films or manifestations applied. This is an excellent (and cost effective) way to give added interest to an office design or reinforce company branding.
Benefits of Natural light
Glass partitioning can be beneficial to your workplace as it allows natural sunlight from the external windows to flood into your offices. The advantages of this are:
The sun shining in will help raise your staffs' serotonin levels which in turn aids their activity levels and productivity.
Natural sunlight increases the production of Vitamin D which increases the immune system. This helps keep them at their desks and not in their sickbeds at home. It's a fact that people working under natural light spend less time off work – so open the external window blinds and let the sunlight in!
Sunlight is great for getting everyone in a good mood especially during the cold winter months.
The more natural light that you have within your office the less electric lighting you need. You'll be able to turn off the lights, or just have less switched on, which means savings on your electricity bill.
Lower electricity bills, lower absence rates, healthier more productive staff and on top of all that the sunshine brings that feel-good factor to the workplace!
Safety Glass
All glass used in todays glazed partitioning is safety glass, usually toughened or laminate:
Toughened Glass
This is produced by controlled thermal or chemical treatments during production that increases the strength of the glass. When broken the glass will crumble into safe, thumb-size, granular chunks instead of leaving dangerous, sharp, jagged shards. Thickness's for toughened glass are typically 6, 10 and 12mm.
Laminate Glass
A type of safety glass made with two or more layers of glass sandwiched with a laminate substructure of Polyvinyl Butyral (PVB). This keeps the outer layers bonded together even when broken and prevents the window from breaking up into sharp pieces. The PVB layer also has the advantage of adding a much higher sound reduction quality to the glazing. The thickness of the laminate glass used is 6.4mm.
Budget framed systems
This is a 50mm glass partitioning system that offers good flexibility and is ideal for the budget conscious. Available with single or double glazing it uses a snap-in glazing bead and can be up to 6m in height. These are called various trade names by different suppliers:
Komfort Partitioning: 600 Series
CPD Tenon: Flex Plus
SAS: System 2000
CCF: Excel
All framed partitioning sections are available in a choice of colours from the RAL colour chart. The standard stock choices that most of the partitioning suppliers keep in stock are white, light grey and SAA.
The benefits of this glazed demountable Aluminium lightweight system are:
Low cost and attractive
Various choices for the framework colour and finishes
Available from stock
Choice of laminate or Aluminium skirtings
Fully relocatable within the office space
Quick to install with minimal mess
Can go up to 6 metres in height
Acoustic performance – double glazed partitioning is up to 40 dB (Rw)
Glazed Partitions
This is a very popular system we install and is available in 75mm and 100mm variations. It's based around a steel stud & plasterboard system surrounded by an aluminium framework. The framework, along with the finishing trims, can be sprayed in any BS or RAL colour to suit the interior design or your company's colour scheme.
This system is known by various trade names by different suppliers:
Komfort Partitioning: Komfire and Kameo
CPD Tenon: Fire and Sound
SAS: System 3000 and 4000
CCF: Prima
Benefits of this style of glass partitioning include:
Stylish appearance in both square and rounded profiles
Numerous choices for the framework colour
Available from stock
Choice of laminate or Aluminium skirtings
Fire rated up to 30 minutes
One of the most popular glass partitions on the market today
Acoustic Performance for double glazed partitioning is up to 41 dB (Rw)