Office Doors 
Rodley Interiors Ltd are specialists in the supply and fit of bespoke office doors to suit any environment.
Our years of experience within the office fit out industry ensure you can have full confidence in the quality of our products. The install of quality office doors and joinery can dramatically change the aesthetic appeal of your office and create a real feature. Please see details below of our office door options;
Hollow Core Doors
 hollow core doors
Available at any standard height.
Are lightweight and easy to install, due to centre of the doors having no solid properties.
Suit the 50mm office partitioning system we install.
Can offer a range of natural veneer options.
Can feature any customized vision panels.
Identical in aesthetics to solid core doors but are slightly cheaper.
Solid Core Doors
solid core doors
Complement the demountable partitioning 75mm/100mm partitioning systems and are heavier and more robust.
Are available in a range of veneer options.
Can be custom made to meet specific requirements
Fire rated door options are available to meet FD30 and FD60
Can feature a range of vision panel options in fire rated and non-fire rated choices
Enrich the natural features of the door, supplied fully finished with  UV stable and clear lacquer
No door has the same finish, with the veneer being a natural product the properties of the wood come through.
Available to a height up to 2700mm.
Glazed Office Doors
 Office glazed door options
Our single and double glazed office doors fit seamlessly well in conjunction with the glass walls. The doors give ultimate levels of performance and durability and are designed for any office area. The glass doors can be fitted either on a;
pivot system without a door closure
floor spring which enables the door to be self-closing
sliding system on a manet style track
The doors can be fitted with DDA compliant ironmongery and manifestation frosting.
Laminate Doors
Laminate  doors
Laminate and custom made doors are becoming increasingly popular within the workplace.
These doors have excellent scratch resistant properties, ideal for a busy office with high amounts of traffic. These bespoke doors also have excellent crack and abrasion properties for years of use.
Our bespoke doors can feature a range of vision panel options to suit your requirements. Each laminate finish door is exactly the same, rather than a veneered where the grain of natural wood comes through.
To add that 'wow' factor to your office laminate feature doors are the answer. Our custom made  doors are built to meet our clients specific requirements and sizes.
Bespoke door and frame sets
In addition to standard office doors we offer, we also install bespoke door and frame sets. Doors are a feature in their own right, so by installing tailor made office doors you can be sure to impress.
To get the most benefit and aesthetic appeal the doors can be created full height. One of our favourite feature office doors, is Cross Grain Oak, with matching frame sets. The natural horizontal grain across the doors flows into the frame sets.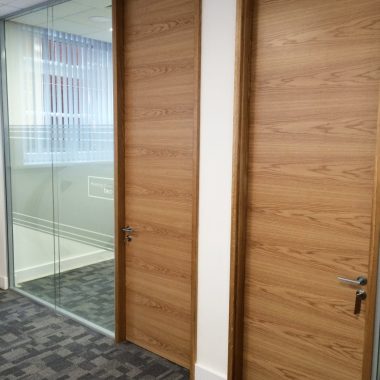 Vision panel Options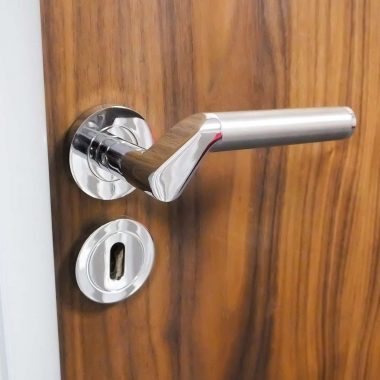 There are a number of different vision panels to suit our clients requirements these can either be our standard sized panels or non-standard sized panels. All our vision panels are available in fire rated and non-fire rated choices and come in three glass options;Clear laminate glass (non-fire rated),Clear fire glass and Georgian wired fire glass.
Office door ironmongery
We can offer a wide range of office door ironmongery and furniture. Our door furniture can suit any design and performance. The door furniture we fit is DDA compliant, and can be finished in our standard finishes;
Anodised Aluminium
Satin and Polished Stainless Steel
Other finishes are available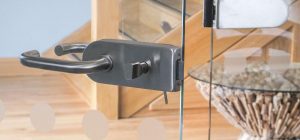 Door Furniture
Bespoke Door and Frame sets
Glazed Office Doors
Solid Core and Hollow Core Doors