Client:Witheld
Location:Leeds City Centre
Industry:Aviation
Building:7 floor office block
Date:September 2015
Rodley Interiors installed multi-purpose budget partitioning systems in Leeds, creating office spaces meeting rooms and training areas over a 9300 sq.ft floor space.
The Design Brief
Rodley Interiors were invited to carry out a large scale office partitioning project for an existing client in Leeds City Centre. Our brief included dividing the open plan area into;
Practical training suites
Meeting rooms
Conference areas. 
Our client was keen to maximise the generous amount of natural light that the large floor space had to offer.
A main part of our brief was the requirement to mirror the existing partitioning we have already installed for the client at their head office.
Cost Effective Partitioning
When forming the meeting rooms and conference areas we had to ensure each individual space offered a good level of sound reduction. As the partition rooms were formed with half height glass modules our client was keen to retain some level of privacy. Taking this into consideration we fitted a Tenon Fire and Sound partitioning system. This cost effective system has a high acoustic performance and can also be fire rated if required. This system is demountable and could be re-situated within the space if the client requested.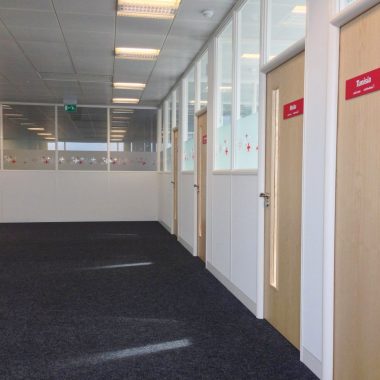 Budget Office Partitioning
The training room areas were fitted with a different system Tenon Flexplus. This simple system is both easy to install and is re-locatable. The budget office partitioning product is easy to maintain and requires minimum maintenance. The sizeable training rooms featured half height glazing allowing natural light into the areas,to inspire and motivate new staff members.
Overview of Tenon Flex Plus
The product is constructed with aluminium channel and upright sections.
The systm has a choice of three doorframe profiles.
Solid partitioning walls can feature a range of vinyl options.
A dB rating of 29 can be achieved with solid honeycomb panels. A half glazed partitioning wall using flaxcore panels can achieve a dB rating of 28.
See more project photos here … More Photos