Location:Leeds, West Yorkshire
Industry:Freight and Distribution
Building:2 Storey Office Unit
Date:January 2021- February 2021
As part of a larger office fit out a Leeds based freight company requested Rodley Interiors to install new Industrial Style Glass Offices to create spacious workspaces.
The Project Brief
Rodley Interiors were chosen by a Leeds based freight company to install Industrial Style Glass Offices to a recently acquired office unit. When the company acquired the space it required a full office fit out including the removal of the existing redundant partitions and the supply and fit of new. The company required 2 individual offices for management staff, a large meeting room and a separate store room. The project value of the partitioning install was £6,800- £7,200 which included both supply and installation.
Industrial Style Partitioning
In keeping with a current popular design trend we installed the glass partitioning with striking black framework giving it an industrial feel. The partitioning itself was both of a 50mm and 75mm specification making this a more budget friendly option for our client. Industrial style glass offices can be formed using both a frameless glass system and a 50mm and 75mm profile. To build these offices we first formed a plasterboard bulk head, which was then painted white in contrast of the black framework. The partitioning profile included the installation of 135 degree corner posts which enabled the doors and door frames to be fitted on angle.
The glass itself was single glazed and was fitted in 1 meter sections along the internal and external office walls. The exposed walls within the offices were painted a metal grey in keeping with the industrial theme, we then continued this to the office doors. Each door was then fitted with a solid black handle and lock set.
Benefits of Industrial Style Glass Offices
Cost effective when formed using 50mm and 75mm partitioning profiles.
Modern and in line with current design trends.
Allows for the maximum amount of natural light into each workspace.
Can be fitted alongside glazed and solid office doors.
Complements all office interiors.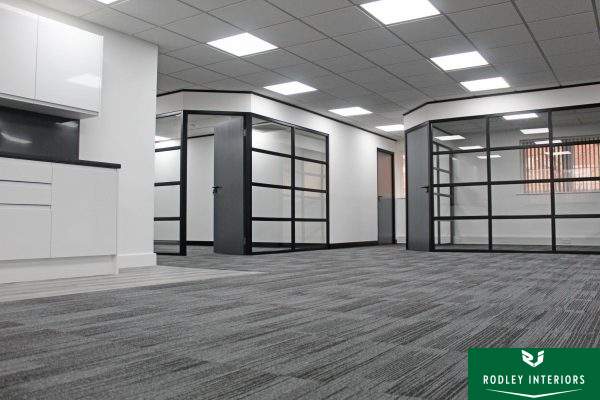 More Photos