Client:(withheld)
Location:West Yorkshire
Industry:Finance
Building:2 storey office block
Date:February 2011
Rodley Interiors helped a large financial advisory firm to update their offices. We advised on a suitable new layout & recommended a partitioning system that would meet their acoustic performance requirements for "soundproof" executive offices.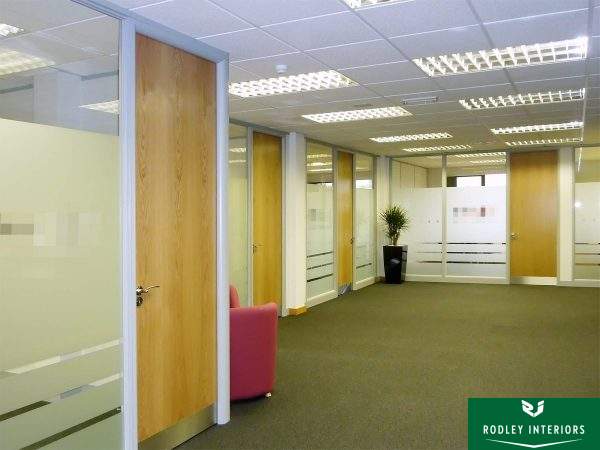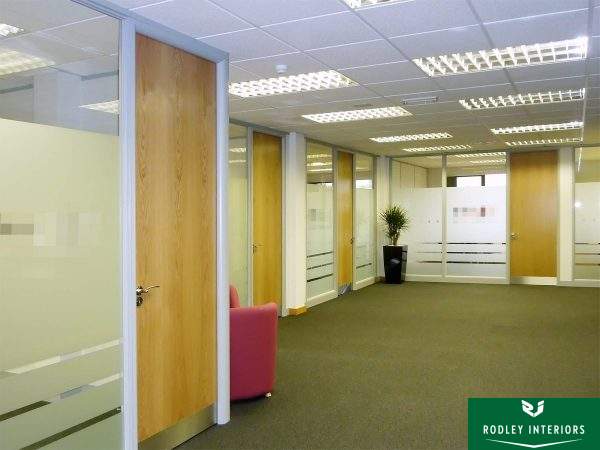 The existing partitions were dated – from the mid 80's – very tired and didn't make the best use of the available space.
We came in and stripped out all the existing partitioning; disposing of it in accordance with our recycling program, ensuring any hazardous or pollutant waste was disposed of in accordance with current regulations.
The client was in residence for the works and was able to relocate to the other side of the office. We erected a temporary screen and made sure any particularly noisy work was done outside of normal working hours to keep any disruption to a minimum.
New Tenon 75mm Fire & Sound partitioning was supplied and fitted, due to its acoustic properties as soundproofing was important. 100mm Tenon Fire & Sound partitions are used for the dividing walls and sound attenuation is further boosted by 50mm Rockwool insulation slab in the cavity and double skin plaster boards to each side.
The door sets are full height with a lovely oak veneer finished off with modern satin/polished stainless steel handles, locks & door stops. The framework is in RAL 9006 Silver with skirting and cover trims in aluminium. Full height single glazed units use standard 6.4mm laminated glass.
All solid modules are covered with Muraspec Vinyl with various feature walls having a distinctive horizontal pattern to tie in with the charcoal carpets. We use Muraspec Vinyl as it's a durable, washable, fire resistant covering. Its easy maintenance, durability and longer life span mean it's often more cost effective than paint.
Not only was the client very pleased with the final results but the project was completed on time and on budget.
Interactive Panorama
Interactive Panorama
Work in progress
Finished project